New Music for Strings
Composer-Performer Workshop
Iceland 2019
Reykjavík
August 9-15, 2019
NOTICE: Applicants who have been accepted to the program must now submit the "Housing and Financial Aid Form" at the bottom of this page.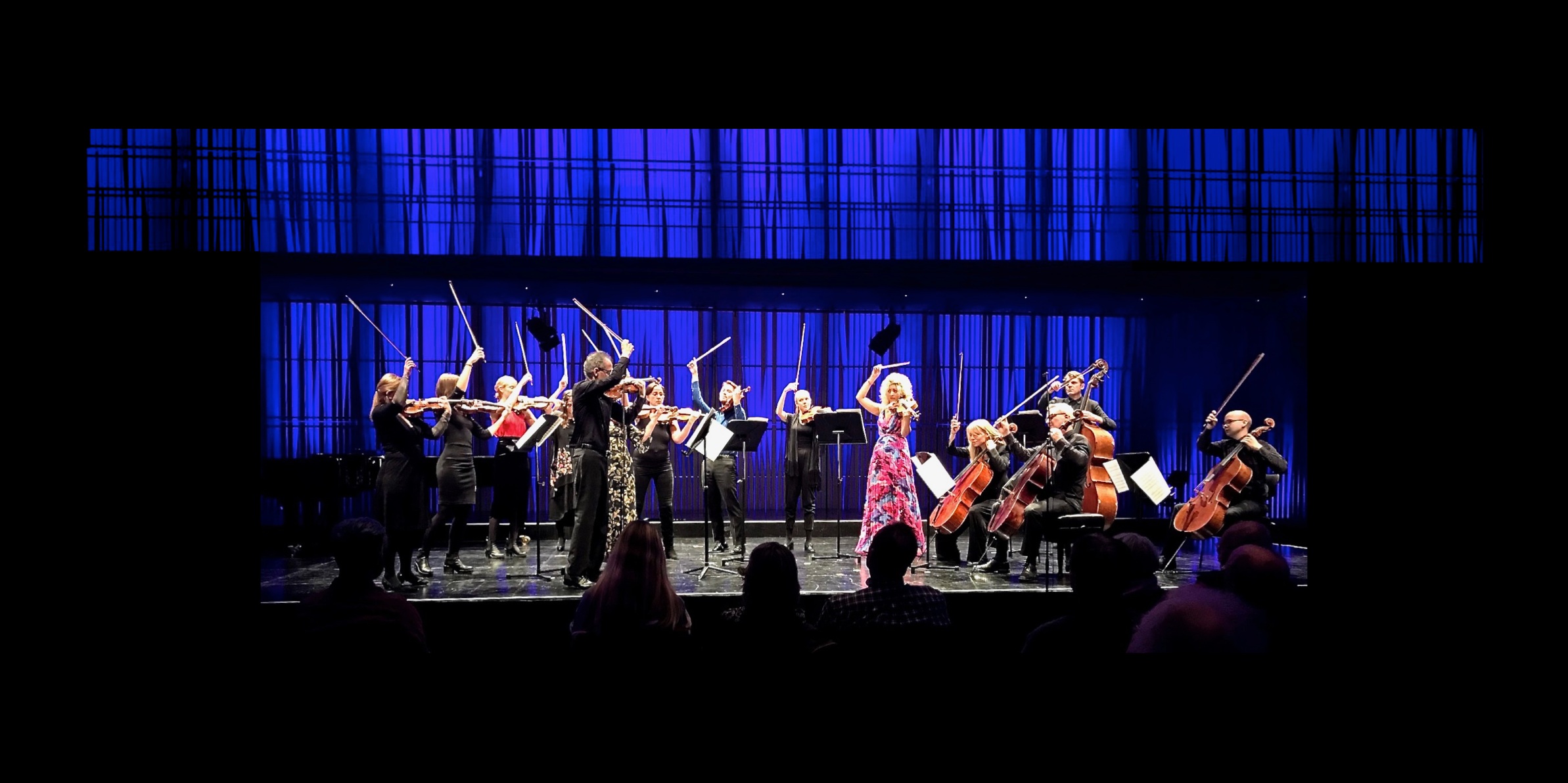 Overview
The New Music for Strings Festival Iceland invites you to join our composition and performance faculty for our second annual composer-performer workshop. The collaborative workshop, from August 9-15, 2019, consists of many new music concerts, as well as seminars, masterclasses, and meet-up groups focusing on topics germane to composers and performers of new string music. The program is aimed primarily at graduate and professional level performers and composers. All participants will enjoy one-on-one collaboration with faculty and fellow composers / performers. Each of the composer participants will be offered readings of their work and performers will perform alongside NMFS faculty and artists.
This year, our program is expanded with the addition of new partner organizations, including the Harpa International Music Academy (HIMA). The workshop is part of the NMFS Contemporary Music Institute at HIMA, a new larger area-of-study presented jointly by the festivals of the two organizations. For this reason, participants can enjoy many of the vibrant activities associated with two simultaneous festivals, such as many concerts and valuable networking interactions—all outside of the workshop itself. Many events which occur at Iceland's premiere venue, Harpa Hall, and other iconic new-music destination venues in Reykjavík, such as the artist collective, Mengi.
Faculty
Our confirmed performance faculty include the following. More may be announced:
Eugene Drucker (Emerson String Quartet) - violin, chamber music
Mari Kimura (UC Irvine, Juilliard) - violin, composition, interactive electronics
Lin Wei (Violinist & Artistic Dir., HIMA & Atlanta Festival Academy) - violin, chamber music
Henrik Brendstrup (Royal Academy of Music Aarhus) - cello, chamber music
Ásdís Valdimarsdóttir (Royal Conservatory of the Hague) - viola, chamber music
Ari Þór Vilhjámsson (Israel Philharmonic, Helsinki Philharmonic) - violin
Our current composition faculty includes the following. More may be announced:
Chen Yi (UMKC, Pulitzer Prize finalist) - composition
Eivind Buene (Norwegian Academy of Music) - composition
Any additional updates will be posted here as well as on our Facebook page. We will soon announce our Artists-in-Residence list, which is separate from the Faculty roster above but also includes many formidable musicians.
For immediate inquiries about the program, please email newmusicforstringsiceland@gmail.com .
Description of Study Areas and Audition Information
General requirements: All three of the study areas offered at NMFS Iceland 2019 are designed for advanced participants (typically graduate students) and professionals. The application requires a short bio and a statement of intent along with the materials specified below. All recordings are to be submitted as links on the application site. Video is preferred, but audio is acceptable. Concert assignments (for performers) and information about working with the available performers / instrumentation (for composers) will be sent out to participants upon acceptance.
COMPOSITION
Faculty: Zhou Long, Mari Kimura, Eivind Buene
The composition area will focus on writing for strings, with an emphasis on special techniques and exploring the players' physical relationship with their instruments. Participants are expected to bring complete works and works-in-progress which have relevant combinations of instrumentation for the developing list of artists-in-residence at NMFS Festival Iceland 2019. (This list will be published and the occasionally updated in the months leading up to the festival.) The course will include 2 to 3 private lessons with a primary instructor, daily seminar and concert attendance, intense daily collaboration with artists-in-residence and/or faculty performers, interdisciplinary meet-up sessions, as well as two readings of each participant's works moderated by senior composition faculty in a collegial "masterclass" setting.
Audition requirements:
2-3 scores, with accompanying recordings. Audio or video performances preferable, but midi acceptable. The works submitted should emphasize the applicant's writing for strings.
COMPOSER-PERFORMER
Faculty: Eugene Drucker, Mari Kimura
This area is aimed at highly accomplished string performers who wish to develop their understanding of compositional processes as well as their own compositional skills. Participants will work with faculty on writing a piece for their instrument and studying contemporary solo repertoire as well as developing skills working with interactive electronics. Lessons with composition faculty and participation in chamber music are possible at the discretion of the faculty.
Audition requirements:
Two contrasting movements from an unaccompanied Bach sonata, partita or suite OR chaconne.
A work or part of a work by a major 20th/21st century composer. For example Bartók, Stravinsky, Berg, Schoenberg, Shostakovich, Berio or Lutoslawski.
An original composition for your instrument. Cadenzas are acceptable.
PERFORMANCE
Faculty: Eugene Drucker, Henrik Brendstrup, Lin Wei, Ásdís Valdimarsdóttir, Mari Kimura, Ari Þór Vilhjálmsson
The performance area is aimed at highly accomplished performers interested in studying the interpretation of contemporary music. Study topics will include special techniques, stylistic variety and historical context. Participants will perform together and with faculty and are expected to prepare a number of works for performance, representing a variety of styles and time periods. Information about repertoire will be given shortly after notification of acceptance. This area is designed for individual applicants who will be placed in chamber ensembles upon acceptance. However, NMFS Iceland may consider special requests for pre-existing chamber groups to work and study together at the festival if: 1) all ensemble members are individually accepted into the program, and 2) the ensemble matches the festival's developing instrumentation needs (see below).
Audition requirements (all applicants must apply as individuals):
Two contrasting movements from an unaccompanied Bach sonata, partita or suite OR chaconne.
A work or part of a work by a major 20th/21st century composer. For example Bartók, Stravinsky, Berg, Schoenberg, Shostakovich, Berio or Lutoslawski.
Optional: A movement from a major chamber music work from any period. Three or more players preferred, but duo acceptable.
Optional: One movement of a sonata with piano OR one movement of a concerto from any period (with orchestra or piano).
If making a secondary request to perform or study together as a group in the festival, each group member's individual application must include the following items (in addition to those above):
Each member must check the box indicating a request for group consideration as well as list the group name in their "statement of intent".
Include recordings of two chamber movements of contrasting styles. At least one must be by a major 20th/21st century composer. For example Bartók, Stravinsky, Berg, Schoenberg, Berio or Lutoslawski.
HOW TO APPLY
REYKJAVÍK, ICELAND 2019 PROGRAM
Application Deadline: May 10, 11:59pm Pacific US time
Acceptance notification: May 15
New Music for Strings Festival Iceland, in Reykjavík: August 9 - 15
Apply online here:
Tuition
The total tuition fee is: $500 USD (roughly ISK 60.000)
This fee covers participation/attendance for all educational and performance events at NMFS Iceland 2019. NMFS Iceland will facilitate and advise on housing options, but will not cover housing costs. A limited number of group housing options will also be available through our partner institutions on a first-come-first-serve basis. Participants are responsible for their own meal planning/food.
A nonrefundable deposit of $165 USD (roughly ISK 20.000) is due June 30 (*note the date change), and the remaining amount is due July 15.
Financial Aid
A limited number of scholarships are available to cover a portion of tuition.
After acceptance: All accepted applicants must submit the "Housing and Financial Aid Form" below, regardless of whether they are making special housing/aid requests, as the form indicates one's intent to participate in the festival. Housing and financial aid requests received on the form will be retroactively applied to the original participant applications.
Already applied and accepted?
Congratulations! To help us ensure the best experience for participants in Iceland this summer, all accepted applicants must submit the following form (even if there is no special request for housing/aid) :
Important dates for accepted applicants after submitting the form:
June 1 - NMFS begins advising on housing options
June 23 - NMFS notifies you of any additional financial aid
June 30 - tuition deposit due
June 30 - also due are email requests for repertoire/material to be developed/performed
July 15 - remaining tuition amount is due
Aug 9 - 15 - New Music for Strings Festival Iceland 2019, including the Composer-Performer Workshop. (Remember, the festival runs in parallel with the Harpa International Music Academy, and we strongly encourage interaction with their excellent faculty and participants.)